Happy Easter! We had a great weekend. We had two wonderful Seders - on Friday and Saturday nights. Then we had an Easter egg hunt and Easter dinner on Sunday. We dyed our eggs last weekend, and that was pretty great too! Saturday during the day we got out and did some yard work, and Ellie was a HUGE help! She is one strong girl! She helped me weed, and move the wheelbarrow and water the plants that I transferred. She even dragged her old plastic picnic table and see-saw out to the curb for someone to take. I was so impressed with her helpfulness that I gave he a special treat - a webkinz toy that I had saved away for a special occasion.
Anyway, hope you all had a great Easter and Passover!
Joy
asked us to pick our favorite creations using
Joy's Life stamp
s, and I had to go with this Easter card. Not only is it timely, but I just love the technique that I used on the background - staggering the stamps and emphasizing one of them. Easter is generally my least favorite holiday to scrap because I don't care for pastels and anything that's traditional Easter. I think that's why I love this card so much. It surprises me that I actually LIKE an Easter card that I made!
Here is a closeup on the sentiment stamp. I used the 'happy' from the
everyday occasions set
, and the 'Easter' from the
holiday occasions set
. There is a 'happy' in the holiday occasions set too, but it was the same font as the 'Easter' and I liked the way the different fonts looked together.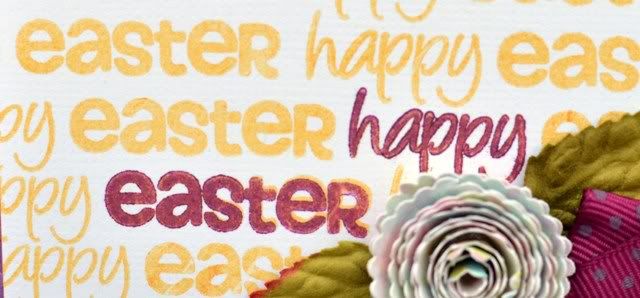 Thanks for taking another peek at my favorite joy's life card!