This week Joy asked us to work with these tubes! I had my Christmas supplies out and spread all over my work room because the magazines all have their holiday calls out and I was working on stuff for that. So, I was inspired to make my tubes Christmasy.
BUT I used a Halloween Stamp set stamp! Isn't that cool?! I love it when I can make my supplies do double duty!
Speaking of supplies doing double duty, the box that I altered here is from some webster's pages pins packaging. I often save plastic boxes like this one to alter. You could make a tube holder like this out of cardstock, but I like the plastic one because it is more sturdy, especially once the tubes are filled with candy.
To make the holes for the tubes, I just used a punch in the same size as the tubes. Or as close as I had really, mine was scalloped and just a hair too small, but I managed to shove them in there anyway.
The label die cut is from the Lacy Labels Cricut cartridge. I covered up the bird that was at the bottom of the leaf circle, with some holly leaves that I sketched in pencil and then cut free-handed.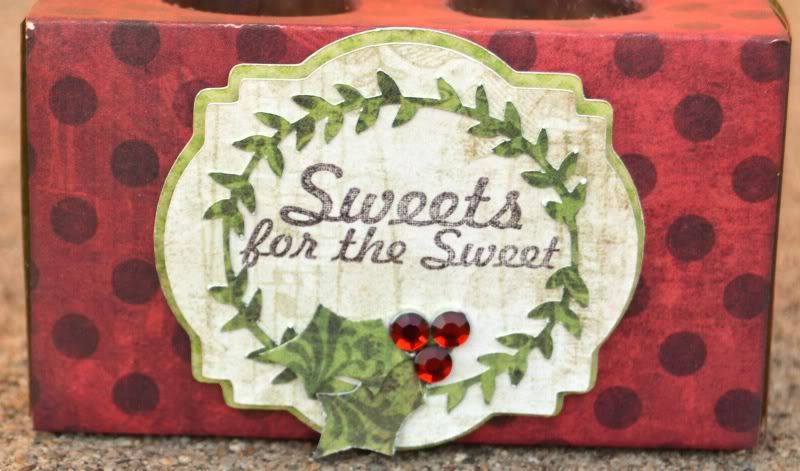 I used Staz-On ink, but only inked it lightly so that it worked with the distressed My Mind's Eye papers. The bling is also My Mind's Eye. I used a little bit of Clearsnap ink on the edges of the box so that the white cut edges of the paper didn't show.
The stickers on the accordion flowers are from SRM stickers.