The Skipping Stones Design Team is thrilled to be teaming up with the fabulous designers from The Ribbon Carousel to bring you a blog hop that is sure to impress!
Let's talk prizes!!
Hop along and leave some blog love for our designers for a chance to win one of 2 great prizes! The Ribbon Carousel will be giving away a ribbon carousel and Skipping Stones Design will be giving away a stamp set of the winner's choice! Winners will be announced on Saturday at 8:00 PM EST!
So you are here at number 16 - Megan Aaron. I am thrilled to be a part of this hop!
I don't normally make patriotic cards, but I am pretty happy with how this one turned out. The ribbons really inspired me!
I used the
Skipping Stones pumpkin seed sentiments
diamond patterned background and Happy Birthday sentiment. I thought that the diamond pattern echoed the stars on the American Flag. To reinforce that I idea a little bit, after stamping them with navy mixed media ink, I embossed them with
Opalescent embossing powder
. (It's hard to see in this photo, but it gives a little shimmer to the 'stars') I embossed the 'Happy Birthday' with White embossing powder.
I wanted the ribbons to look a little like fireworks, so after tying the wide navy ribbon into a bow and attaching it, I created spirals with the red star ribbon by applying glue dots as I twisted the ribbon. Finally I unwound a piece of the jute ribbon and used the threads to create a little more interest and a better 'firework' effect. For the 'USA' part, I used a Maya Road mini chipboard frame which I covered in Gesso. I covered the center piece in the same navy ink, then added the My Little Shoebox mini alpha stickers and followed it all up with a generous helping of glossy accents to hold it all together and make it look a little like epoxy.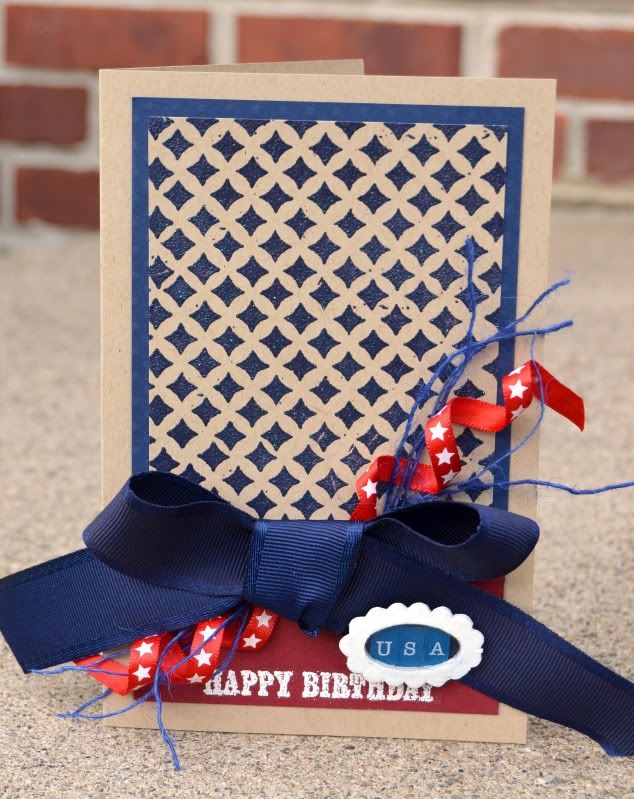 Thanks for hopping with us!