When I found out that the theme of this blog hop was going to be recipes, I freaked a little bit. I used to love cooking and baking, but had to give it up to be a full time working mother and scrapbooker. I just don't have time for more than one extracurricular. So, it's been years since I did any real cooking or baking and I couldn't think of anything I could make.
So, I looked at the stamps...
and saw this: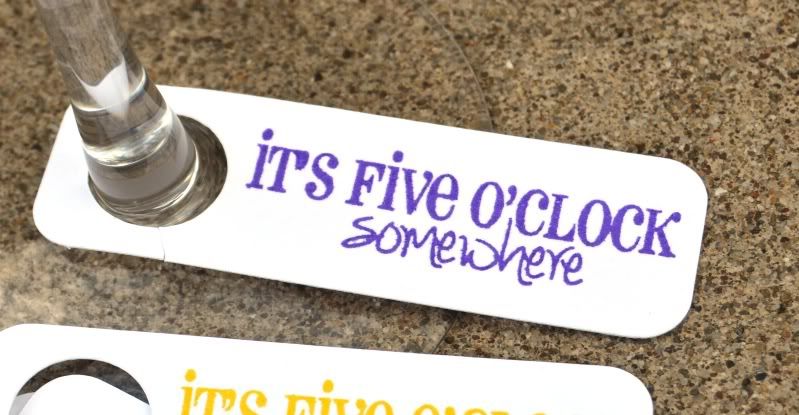 HMMMMM Now THAT I can work with! I love this saying. I love this stamp, which you can find on the
pun in the sun set
. And I have a drink recipe that I love!
So, here is the recipe:
Chocolate Covered Pretzel Martini
Ingredients
:
1 part (cold) Whipped Cream flavored vodka
1 part Frangelico coarse ground salt
1.Wet rim of glass and dip in coarse salt.
2.Shake one part whipped cream flavored vodka and one part Frangelico with ice.
3.Pour into glass and enjoy. And here is the martini party ensemble that I came up with.
Here is the cocktail party ensemble that I created.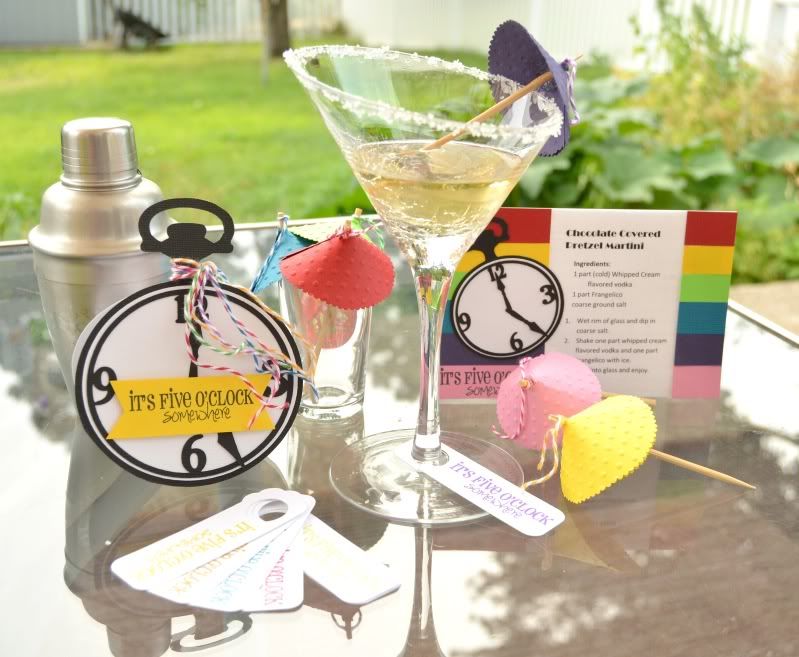 I started with the drink tags.
I cut them out with my cricut, from the Bags, Tags, Boxes and More cartridge. Then I stamped them in a rainbow of Clearsnap Stephanie Barnard Dye inks. Finally, I cut a little slit through the edge of the holes to allow it to be attached to the stem of the glass. Now, everyone can identify their drinks based on the color of the tag!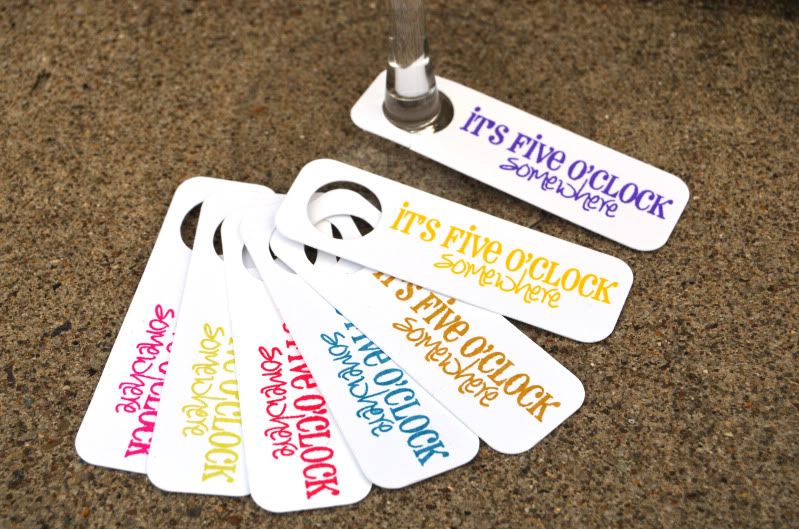 Since the drink tags were in a rainbow of colors, I thought it would be fun and festive to make the whole set match. I made a rainbow of drink umbrellas, a recipe card, and an invitation with a rainbow of twine on it. The clocks are from the Teresa Collins Sophisticated Cricut cartridge.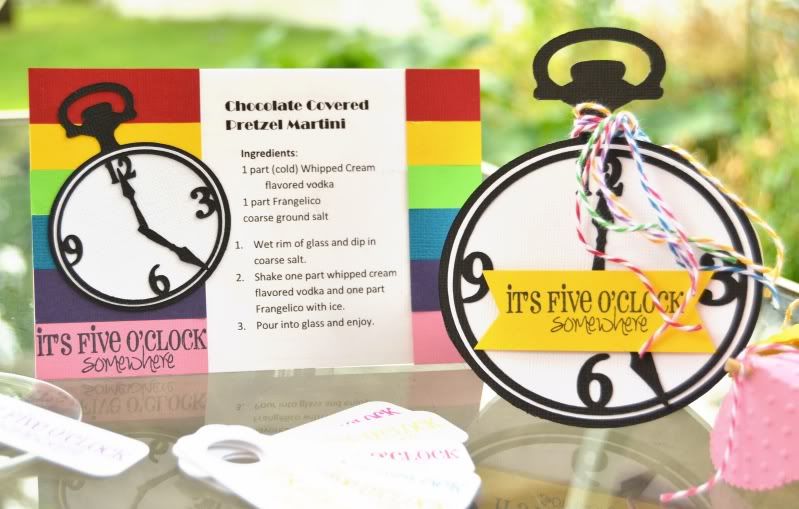 Thanks for stopping by!
Next you are heading to Cyndy's blog.
Here's the order, if you need it:
Joy:
http://joyslife.com
Stacey:
http://staceyscreativecorner.blogspot.com
Megan:
http://thoughtsoftraveling.blogspot.com
<----- YOU ARE HERE
Cyndy:
http://arcyscraps.blogspot.com
Ashley:
http://marklandandmain.blogspot.com
Maria:
http://joyfulstamper.blogspot.com
Patty:
http://craftykitten1.blogspot.com
Amy:
http://redheadedcrafter.blogspot.com
Jeannie:
http://www.polkacabana.wordpress.com
Nina:
http://waffleflower.com
Lori:
http://got2bcrafting.blogspot.com
Sarabeth:
http://www.chroniclesofsarita.blogspot.com
Laura:
http://www.laurascraftsandmore.com
Jennie:
http://earthyscrap.blogspot.com