This week Joy asked us to create scrapbook pages this week, I was pretty excited. We just got back from a week long trip to Savannah. (Which is why my blog has been a little slow lately - I have SO much to share!)
I chose the
'We ARE the Wild Life' stamp from the Wild Life Puns
set because I thought it fit this photo to a 'T'. The story behind this photo - which I guess I should probably add to this page in the form of some journaling - is that we were waiting to be seated at a VERY popular restaurant, the Crab Shack on Tybee Island in Georgia outside of Savannah. They had a sort of 'gator' theme since there was a pond of alligators that you could feed. I guess because there are always so many people standing around waiting, there were a bunch of places for photo ops. This giant alligator statue was one of them. We took a couple of normal photos, then my husband and brother-in-law thought it would be fun to 'feed' Ellie to the gator. She thought it was a good idea too, until she got up there. Then she started yelling at them to put her down, which they did, but not before I snapped this photo. It makes me laugh because here they are doing something that could be construed as a little stupid, with a kid who is in a cast and crying. I was thinking that all the people standing around were probably thinking - 'uh, no wonder that kid is in a cast!' LOL.
(By the way, the cast had nothing to do with stupidity on anyone's part except hers. She climbed up on something in gymnastics and when the teacher told her to get down, she jumped and landed badly in bare feet, breaking a tiny bone on the top of her foot - the night before our trip, which just happened to also be my birthday. Yeah, fun times.)
Anyway, so this photo makes me laugh, but rest assured no children are actually being harmed in this photo.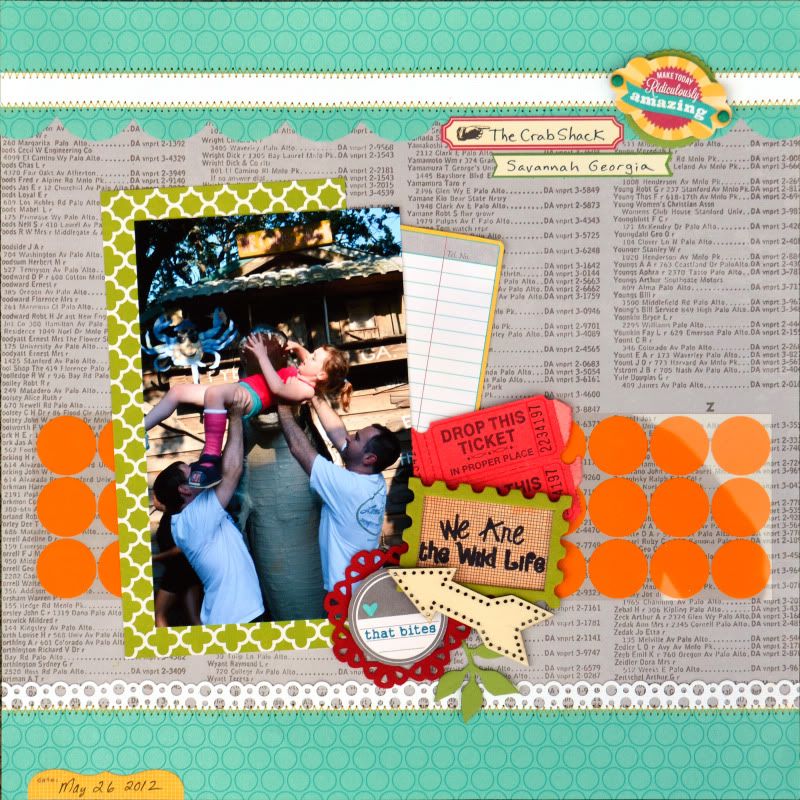 I used a combination of Jillibean soup (Neopolitan Bisque) and Hambly for this page. The teal paper and the orange circle transparency are Hambly, the other papers, stickers and die cuts are Jillibean soup. The wooden arrow is Pink Paislee. The postage frame is Maya Road. The tickets are from a Hydrangea Hippo kit. The Ink is clearsnap. and of course, the stamps are
Joy's Life.
Cardstock is Bazzill. Die is Sizzix.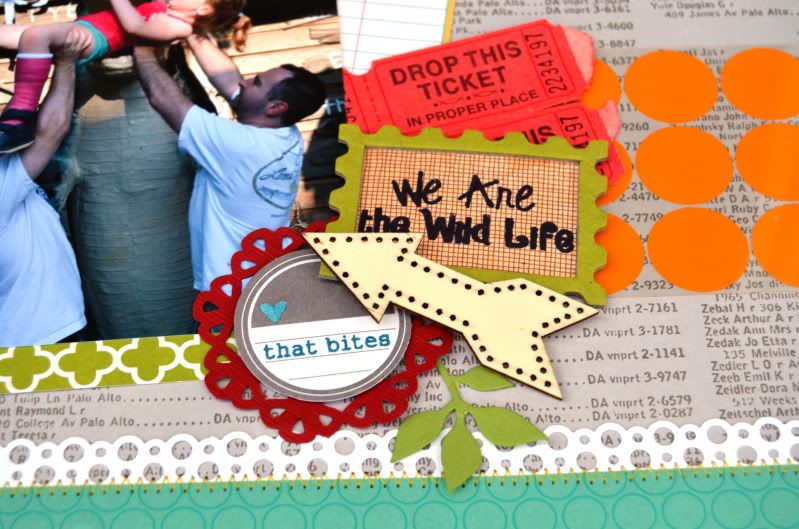 On the title, I sprayed the paper with a little bit of glimmer mist to mute the pattern before stamping the title in Stephanie Barnard dye ink in Kettle. I also found the 'that bites' stamp on the
Joy's Life Sweet Popsicle Puns set
and thought that would be fun as a subtitle. I used Stephanie Barnard dye ink in cornflower on that. I colored the heart in with a little bit of smooch in ocean.