This weekend was a busy one! We had ballet, and a friend over on Saturday night and boo at the zoo and her family party aka her 12 grandparents and great grandparents, no room in our small house for cousins etc. So here are the eyeball cake pops that I made based on a recipe from
bakerella
.She used food dye pens for the black and red parts, but my food dye pens wouldn't write on the white chocolate. I think it has something to do with the wax content because it kept sort of building up on the pen. So I ended up using tubes of the same kind of meltable candy stuff for the red parts, and the leftover black icing from the cake. They still look pretty good but the black icing doesnt harden, so it made for slightly more messy.
For the pot that they are stuck in, I had a pot leftover from a floral arrangement that I got to take home from a wedding. I spray painted it with hammered black rustoleum, then tied the May Arts ribbon around it and embellished with some SRM stickers, Bella Blvd papers, Maya Road canvas tag and some Twinery Twine.
Seth helped me shove a piece of styrofoam into the pot. floral foam or something probably would have been better, but I had to make due with what I had. I glued the tissue paper to the styrofoam.
Ellie is really into Halloween this year, and I got the idea from a coworker to make a bundt pan cake and decorate it like a pumpkin - would have been sooooo easy. But Ellie wanted a spider. so I went to pinterest. bad idea! I came up with this cute idea to put the spider webs around the edges and the spider on top. Those webs took forever! I had to keep resting because my hand was cramping. Good thing my friend Alexis was over to keep me company.
And the tablecloth turned out pretty nice too. No, I didn't make it, but it is the result of a long and mostly fruitless search for a nice plain but not totally boring tablecloth. I wanted one that was beige with a sort of burlap look, which I ended up finding AFTER I already had this one, and Ellie loved this one, so it all worked out. I got the burlap one too - for fall/thanksgiving.
And this is really what it's all about.
"Look a unicorn!"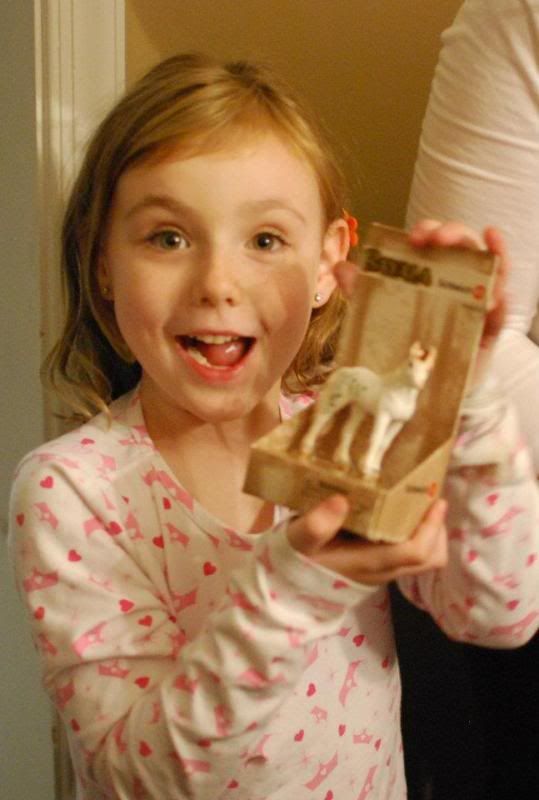 The Harry potter robe and accessories, including the wand that she was using this morning to 'open her dresser drawers looking for her clothes'
Hamming it up. oh yes, she is a ham
the money shot