It's only been a couple of days since a post went live here on my blog, but it feels like it's been forever to me. That's because most of the recent posts were scheduled WAY in advance. Fall is just super busy for us, so I was planning ahead. More tomorrow about what I've been up to. My 'slacking off' has caught up to me in the paper crafting world though, and I had a few things that I had to get done this past weekend - including this card here. This one turned out to be my favorite. It was lucky that I had a sketch and had planned out what I was going to do, because I have been sick! It's nothing serious, but of course I was relaxing on Saturday, when I was still trying to convince myself it was allergies. Then on Sunday I had to make a bunch of cards for World Card Making day, and I felt like something the cat dragged in.
Anywho, this card is for sketch number 148 over at
skipping stones designs
check out the blog over there for the sketch, and the other design team members' inspiration, because you can win if you play along with us!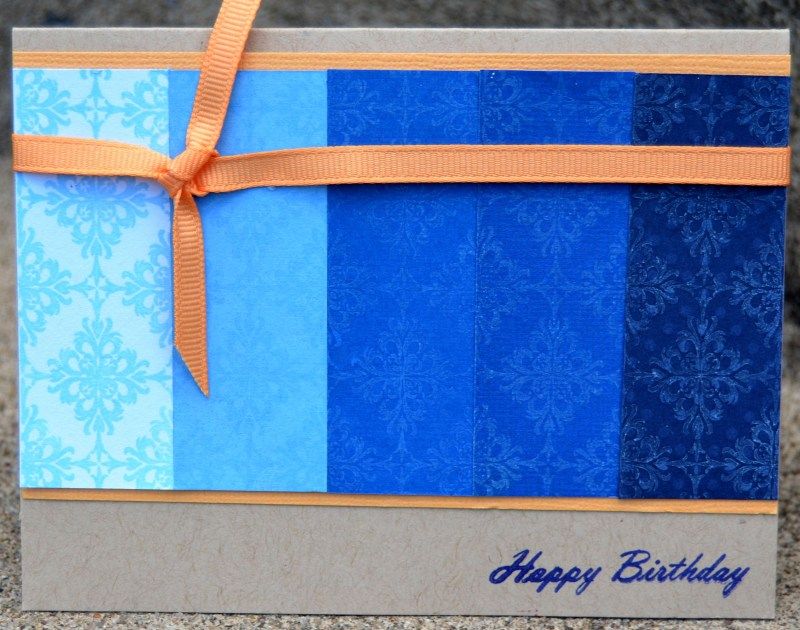 Sentiment is from
Dandelion Dreams set
. Texture is from
Timeless Textures set
.
I was hanging out on pinterest the other day, looking at color combos. I even printed a bunch out and put them in my journal/calendar/smash book. This is one of the combos I found. I adapted it a little bit. The original only had two blues I think. I think it turned out kind of fun! I stamped the texture all the way across in the same slate blue chalk ink to add some continuity to the array of shades.