Things have been a little crazy around our house lately. I've been having some health issues, Seth had finals, and then we found out that our dog, Penny, has lymphoma. She's 10 years old and the best dog EVER! Seth and I got her just before we got married, when the stress of the wedding was really getting to me. I wanted to just elope. I wanted to just be a family. So, we decided to get a dog, a dog that would be ours, that would make us a 'real' family. And she did! She was our 'baby' until Ellie was born. Now she's the 'big sister'. We just can't believe that she's sick. The vet found the cancer on a visit for something totally unrelated about a week ago. Since then we've been trying to wrap our heads around this. Around the fact that our seemingly healthy dog is apparently dying.
So yesterday Seth took her to the oncology center at the university of pennsylvania and they ran some tests. Today, they are running more tests including a couple of biopsies that she has to be put under for. And then she will get her first chemo treatment today. I've been on the fence about the whole chemo thing. The best we can hope for with this disease is a VERY slim chance at 2 years. More likely we are looking at buying her another year. Of course buying is certainly the operative term here, but also I worry about how this is going to affect her. She's such a sweetie, but she has gotten pretty severe anxiety problems in her old(er) age. I don't want to see her suffer.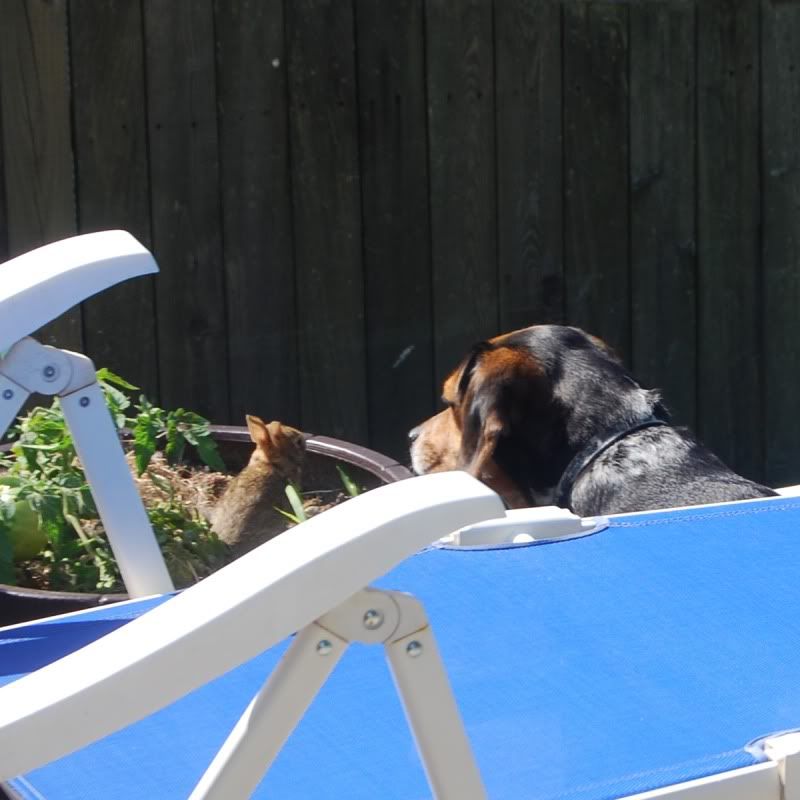 But we are going to try. We can always stop if it isn't going well. In the mean time, I have noticed that I need to take more pictures of her! I have like a million pics of ellie but only a few of penny. Penny just doesn't like to have her picture taken, but that's no excuse. I will take more pictures.
That first one was when she was still a puppy, look how skinny she is! The second one is her meeting the baby rabbits that were living in a planter on our porch. She just looked at that one for a minute and it looked at her. then she barked at it and it jumped out of the nest and fell over the side of the porch, so I had to catch it and put it back. And this final picture is me carrying penny back from a hike because she hurt her paws. She HATES to be picked up or carried. The fact that she's letting me carry her is a testament to how much she was hurting.
So, that's what has been going on. and that's why I haven't had much time for posting or scrapping lately. I am feeling better now though. Im glad that we at least have a plan. I'm still nervous and worried for her, but knowing that she's getting the best care possible helps.