What are you doing for New Year's Eve? Me? Same thing as last year - staying in and relaxing, probably even going to bed before midnight. And you know what? I don't feel guilty or lame about it - it's what I want to do. For years I put pressure on myself to have an awesome new year's eve, and was almost always disappointed - having spent too much money and had not enough fun. A party would probably solve that problem - having all of my friends over usually does. But then, who wants all that prep and clean up right after the holidays? So, I've decided that I'm happy with a very low key new year's.
I'm not saying that it will always be this way, but at this point in my life, where things are constantly go, go, go - the real treat for me is time when I DON'T have to go, go, go. And on that note, here is a little low key New Year's card for you - featuring an SRM sticker and some My Mind's Eye papers.
This card was featured in the
Cards magazine blog New Years Cards Gallery
!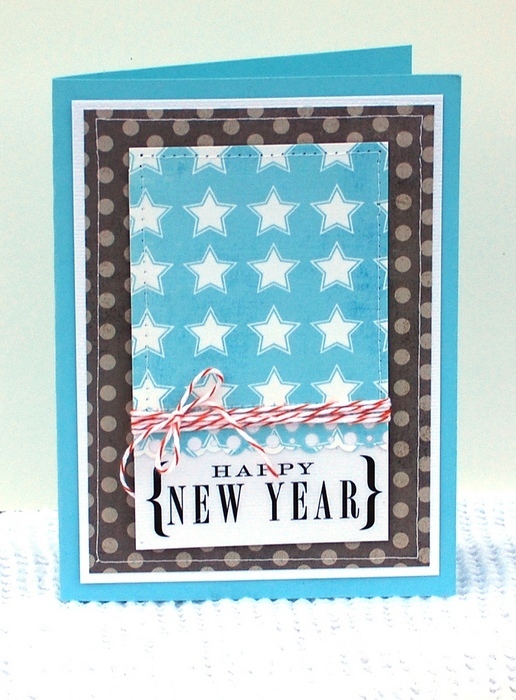 I know it's early, but I hope you have a happy new year, whatever way you choose to celebrate!
Hmm, and now that I am looking at this card, I'm thinking - wouldn't that make a great Hanukkah card? Blue and grey - I might have to try that color combo next year. Maybe I can break out of my bad Hanukkah card rut! That makes me want to run right into my scrap room and try it now - it's never too soon to start right?!