We had a great, busy, trip to Niagara Falls this weekend. I left work at 3pm on Thursday, drove home to get them, loaded the car and were off by about 4:30. We got to Rochester around 11pm and crashed. Ellie woke us up like clockwork - do kids actually have alarm clocks inside them somehow - at 6:30, and after a fast tim hortons breakfast we were off.
We stopped at walmart, target then walmart again to get a waterproof camera, and some pillows since we forgot ours. We ended up splurging on a reusable waterproof camera and said it was for Ellie for her birthday. (yep, that's how you know you are a die hard scrapbooker - you spend $70 on a waterproof camera for your 5 yr old, just so you can be sure to get close ups of the falls. Although to be fair, she loves taking photos and is thrilled to have her own camera. The 'kids' ones are just too baby for her, so a waterproof one seemed a good option - less moving parts to break)
We stopped at Duff's on the outskirts of Buffalo for some wings. Apparently there are two bars that fight over the claim of the first/best Buffalo wings, Duffs and I forget the name of the other right now. But it seemed that the other was maybe a little more authentic, but it was also all the way downtown and Duff's was right off the highway. Win!
Then we continued on to the Maid of the Mist. We parked in a falling down parking garage, got our discovery passes - which cover all the US side state park attractions, and went on the observation deck and the maid of the mist boat ride. Here are ellie and seth on the observation deck - notice the yellow camera? I have tons of photos of HER taking photos. but I didn't want to bore you with that.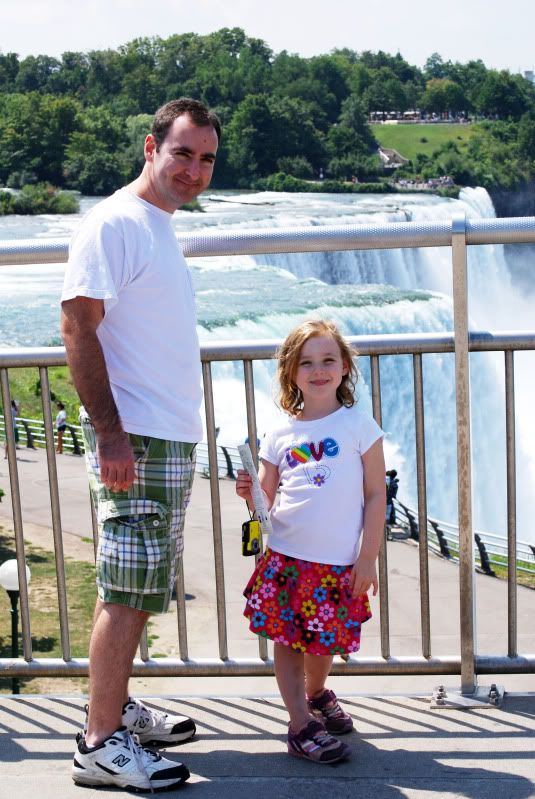 My photo from the observation deck. (I havent really had a chance to go through all 600+ photos from my camera let alone the ones from Ellie's, so these photos are just what I grabbed really quickly this morning.)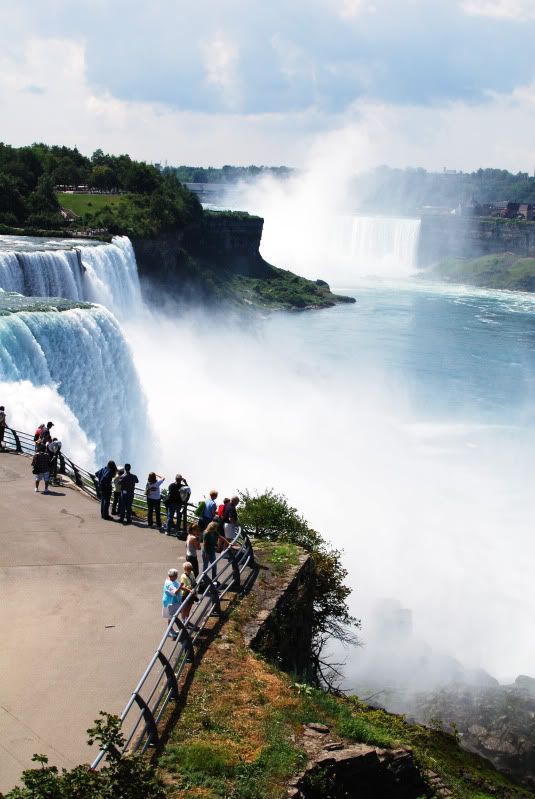 on the deck of the maid of the mist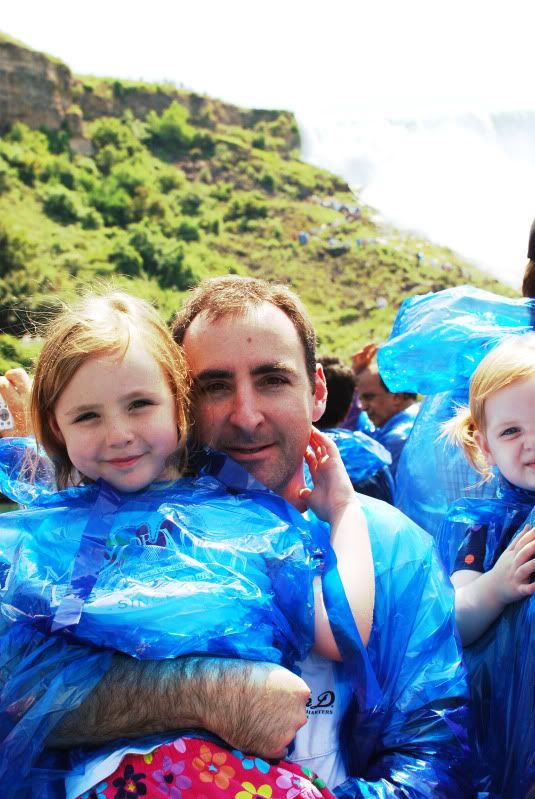 After the maid of the mist and some wandering around the park on the American side - where we saw a couple get married - just them, the priest and a photographer - so romantic! We went to the campground to check in, get set up, and have a quick swim.
Then on to Canada, where we had a great meal at the Paris Creperie restaurant. I have THE BEST kid! She had some french version of lemonade - which was like make your own, they brought fresh squeezed lemon juice in a glass with ice, some water, and some sugar. When she asked if they had lemonade he seemed sorry and sad when he told use about that option, like no kid would want THAT, but she LOVED it! Come on, make your own?! Then we had a baked Camembert cheese appetizer. Ellie tried it with an apple slice, liked it, then had more and decided she didnt like it. She still was willing to dip her bread into the sweet broth that came with it though. I thought for sure once she decided that she didnt like it, it was going to be all over. Seth had beef bourgingon and ellie and I split the mussels with french fries. She loves mussels. Then we had TWO dessert crepes.
Next we moved on to the free concert, falls illumination and fireworks show in Queen Victoria park. Ellie danced, and danced and danced.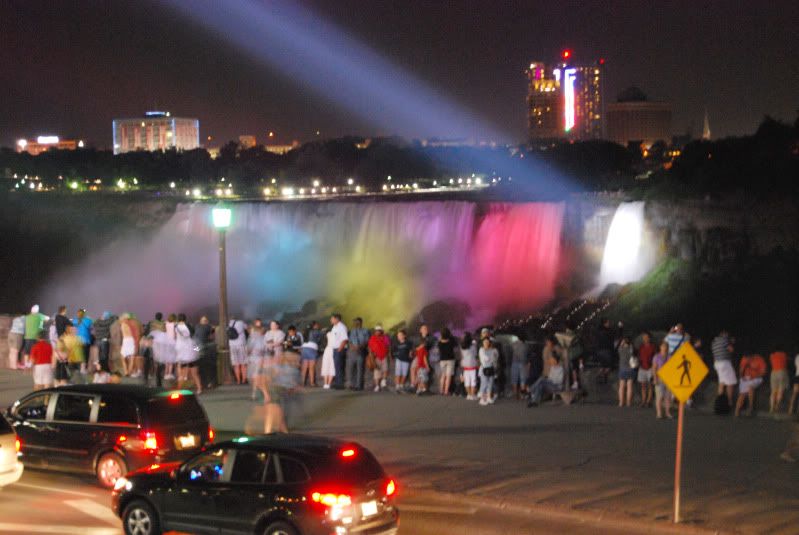 On Saturday we slept in, then went to the cave of the winds trail where we got REALLY wet, and which ellie totally LOVED. Then we went to have lunch at the top of the falls resturant and another observation area.
We then rode the trolley to the aquarium and the gorge discovery center, which were both pretty unimpressive. We were all tired, so we went back to camp and took a nap, before the obligatory hotdog and marshamallow roasting.
In the middle of the night we were awakened by a CRAZY storm, with thunder, lightening and torrential rains. The rain was so bad that it managed to seep THROUGH the fabric of the tent and make a big puddle. We packed up in the rain and headed home.