I am so excited to be the guest designer at clearsnap for the month of September! My first project and introduction are up on the
Clearsnap blog.
I love the little cat eye ink pads from Clearsnap. I have practically every color. I also love the smooch and smooch spritz, but I didn't even know about the rolling stamps and the ruler guide!
Here is the project that I made for the blog today. I used the
Rollagraph, rolling stamp with WordsWord and the black ink cartridge
. It's really cool because the self inking handle makes sure that you can just keep rolling it and always have a perfect amount of ink for a perfect impression! They also sent me the
ColorBox stamping guide
, which is a really cool clear ruler with foam feet that keep it totally stable. The ruler makes the perfect guide for keeping your rolling stamp going straight. Of course I also used my favorite Black Cat eye ink pads to edge the papers. Also the background of the card is a polka dotted paper from the Fancy Pants collection, that I then stamped with some Paper Trunk stamps and some of the Stephanie Barnard ColorBox Dye Inkpad in Strawberry. Finally for a touch of shimmer, I used a little bit of green
apple smooch on the leaf of the apple (which was a free clipart that I printed out).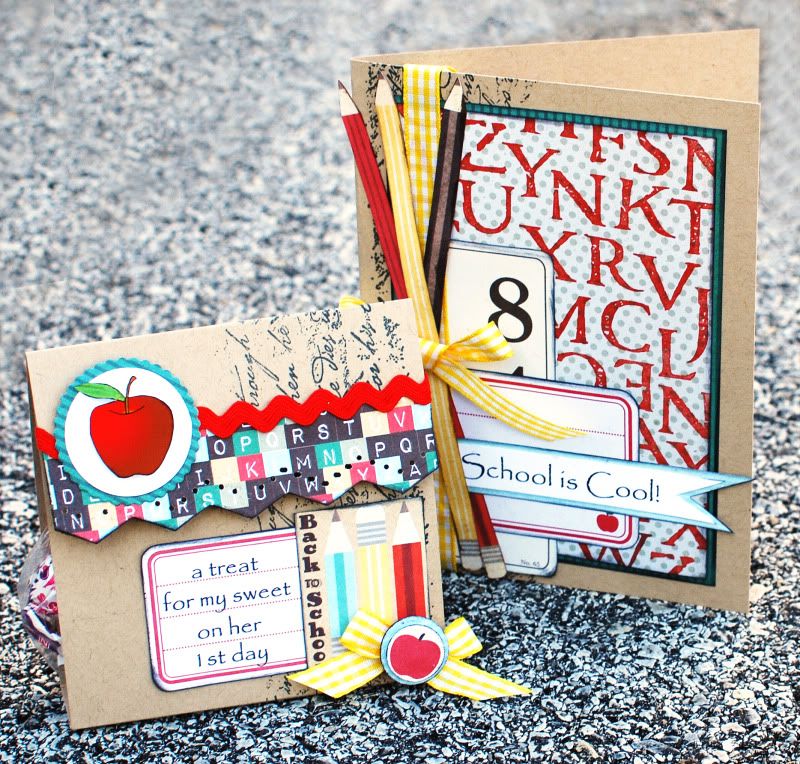 In other news. I was also chosen as one of the top 40 finalists for the design team at
my scrapbook nook!!
There is so much talent there and I am very honored to have been chosen!